In school, I never really cared that much about my hair. Our school's policy was that you HAD to oil your hair everyday & wear it in two plaits or two pony tails unless you had short hair. My mother made sure I didn't grow my hair too long considering she had to deal with two fussy daughters almost every morning. Oil my hair with coconut oil & then proceed to comb through my thick,curly, tangle-prone hair. Fast forward to today almost everything about my hair routine has changed drastically. Years of being subjected to the coconut oil treatment made be completely averse to it. The mere smell of coconut oil makes me gag which is quite ironic for a South Indian like myself. We literally use coconut oil for everything including food! It's just something that I don't find pleasant. Granted that it makes your hair shiny and healthy but it takes so long to completely get rid of the oil and smell even after shampooing. It's kind of funny to see numerous beauty websites talk about the beauty world's obsession with coconut oil recently. Hair oil has been a tradition for centuries! Anyway, I haven't used hair oil since I graduated from school & I guess it's been the best thing to happen, at least for me! I've found alternatives to adding shine to my hair by using a serum with Grapeseed and Avocado oil amongst the ingredients & my hair spray which contains Moroccan oil.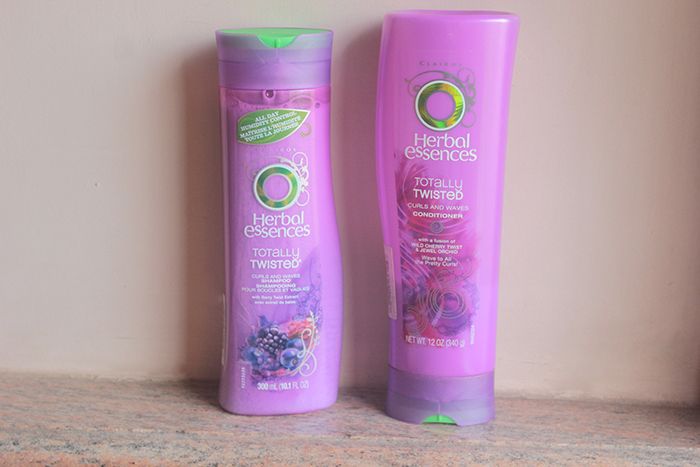 I've tried many shampoos in the past and nothing really seemed to work for my hair. A friend of mine recommended The Herbal Essences range of shampoos which she swears by so I decided why not? It was pretty cheap and decently priced. I bought the Totally Twisted shampoo and conditioner and boy do I get the hype. There's something in this that just works so well with my hair. My hair felt a lot smoother & most importantly, my curls looked more defined! This was about a year ago & since then I've gone through 3 bottles of this shampoo! The conditioner though takes time to get over with. If you're wondering why the conditioner is a teeny bit bigger than the shampoo, it's because I still have the original conditioner I bought more than a year ago! The new stock somehow has decreased in weight although the price has increased. Anyway, I still think this shampoo is worth every penny especially if you have curly, frizzy hair like mine.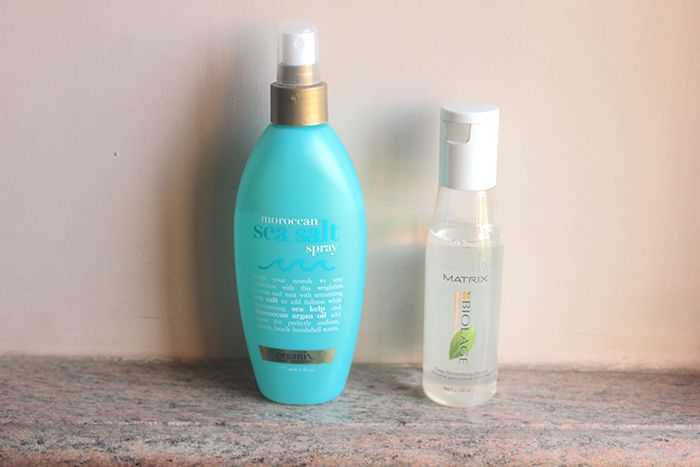 Originally Tigi's Curls Rock Curl Booster was my hairspray of choice but after I ran out of it I couldn't find it at the store that I bought it from. But they had the Organix Moroccan sea salt spray which sounded really good. Again I took a leap of faith & bought it and I have to say I really like it. It doesn't hold as well as The Tigi Curls Rock hairspray but I love that it's nourishing and doesn't leave my hair super crunchy like most hairsprays.
The serum though was kind of an accident. My mother unknowingly bought the Matrix Biolage hair serum instead of the
Loreal's hair serum
at the store that stocks both! A total facepalm moment but still I thought I'd give this a try. At first, I was put off by the smell, you know that predominant oily smell I mentioned before? THAT. Thankfully, the smell wanes after a few minutes leaving ultra shiny hair. Although this one's cheaper, I still prefer the L'oreal hair serum.
So without further ado here's my everyday hair styling routine from start to finish :-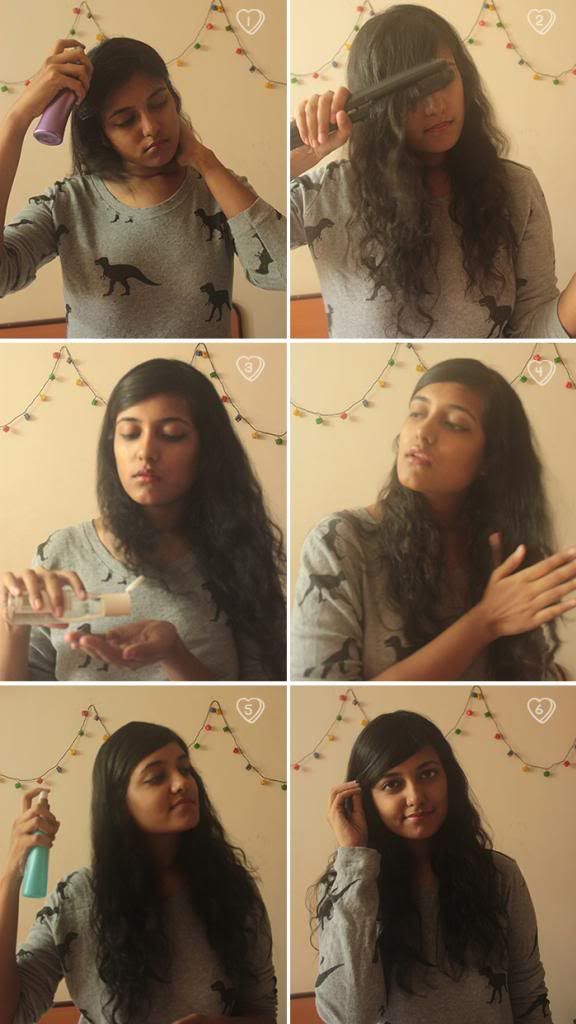 1
After shampoo-ing I let my hair dry normally without a blow dryer since my hair dries up pretty quickly. I need to straighten my fringe so I spray on some of the Fx Special Effects Flat iron spray to protect my hair from the heat while making my fringe stay straight for longer. I previously wrote about this
here
.
2
I don't have a specific method to straighten my hair, I just iron from the top to bottom. Overall it takes me 2 minutes on medium heat to straighten my fringe properly.
3
&
4
After straightening my fringe, I use the Matrix Biolage hair serum (Loreal's hair serum works really well too) using it all over my hair and especially concentrating on the ends where it tends to get dry.
5
Finally I use the Organix Moroccan sea salt hair spray to keep flyaways in place. It also adds shine and texture to my hair which is always good! The spray just reminds me of fresh sea breeze.
6
Ta-da!
When I'm feeling extra fancy I add a little twist to one side of my hair & pin it up with a bobby pin.
✿
♥
[Dinosaur sweater - Zara]
What's your hair styling routine like?